CAM Nutrition

CAM Nutrition is the result of boots on the ground experience and education. Often the difference in perception and reality is having "skin in the game". CAM Nutrition is a combination of applying our experience in the seedstock business, education and a best practice business model. We recognize the importance of using the best science and technology to make genetic improvements. But, we also know the best genetics will only be maximized if nutrition is factored into a producer's herd management equation. CAM Nutrition is a customizable mineral product based on the needs of our customers and their environmental demands. Contact us for a personal analysis of your nutritional needs.
We believe the best way to get to know someone is to have a bit of insight into how they think.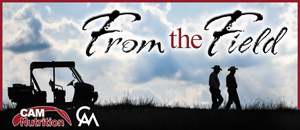 Our "From the Field" blog is our attempt to introduce you to CAM Ranches and CAM Nutrition. Like most folks in the beef business, our days are filled with family as well as managing an ever changing beef operation. We hope you will follow along, get to know us and if we can ever be of any assistance, give us a call.